Welcome to the Law Offices of George G. Horiates. Thank you for visiting our web site and considering our firm in the handling of your legal needs. Please take advantage of the information provided and contact us at your earliest convenience.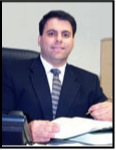 It is our goal to exceed our clients' expectations in providing timely and sound legal counsel.
"We are one of Camden County's most dynamic law firms. We pride ourselves in providing a superior quality of representation. Teamwork in the firm brings specialized experience and strengths tailored to each client."

______________________________________________
Come see our new offices!!!